Flail mower Z315 RoadCut
The Z315 offset flail mower are designed for works related to the maintenance of municipal infrastructure, urban greenery and in orchards and wooded areas. Machines of this type are used for mowing grass, shredding tree branches, cutting weeds and bushes in undeveloped areas.
Main body
Made of high-quality material. Reinforced hood with bolted double coat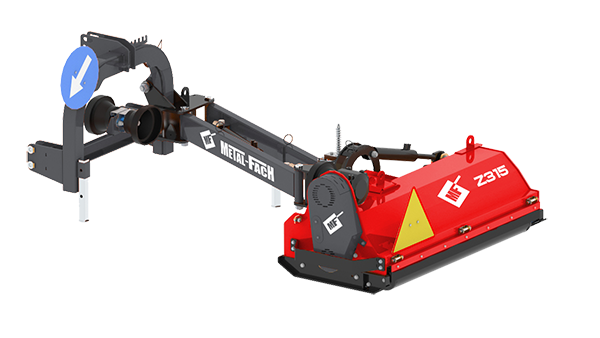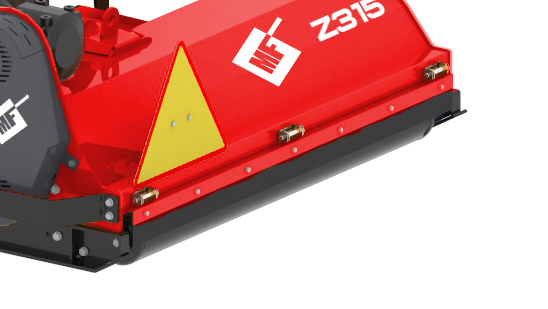 Rubber curtains
Prevent hazardous objects from being ejected from under the curtain. Ensure smooth outflow of the mown material.
Metal bumper
Provides additional protection against obstacles.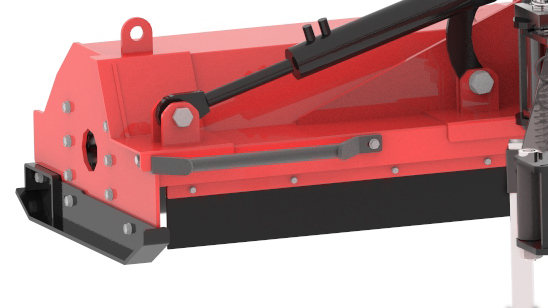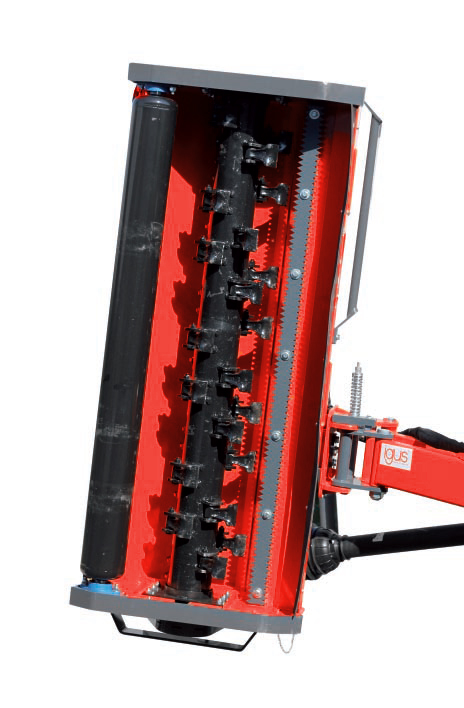 Cutting height adjustment
The rear roller allows cutting height adjustment by 2 cm to 8 cm
Rotor shaft
The large diameter working shaft (159 mm), permits the use of more flails. Electronically stabilized – accurate balancing, eliminates runout
Shredding-blade
Prevents clogging of the machine and is easy to replace with bolts. Additionally mulches the material extra long teeth prevent clogging of shredding bar
Machine equipment
22-32 quick-change flail hammers, 0.8kg each
Hydraulic cylinder
Enables the machine to work on tilting and at different angles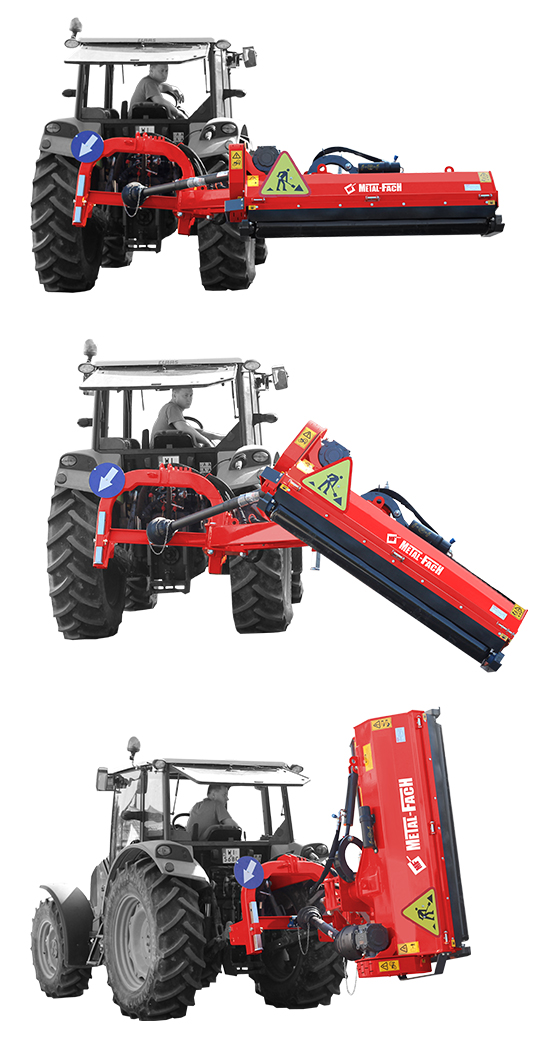 | | Z315 | Z315/1 | Z315/2 |
| --- | --- | --- | --- |
| Working width [mm] | 1600 | 1800 | 2000 |
| Mulch width [mm] | 1600 | 1800 | 2000 |
| Number of V-belts [pcs] | 4 | 4 | 4 |
| Number of flail hammers [pcs] | 24 | 28 | 32 |
| Operating range [degrees] | +90-45 | +90-45 | +90-45 |
| Working shaft diameter [mm] | 159 | 159 | 159 |
| Counter-blade | 1 | 1 | 1 |
| Working efficiency [ha/h] | 1,2 | 1,35 | 1,5 |
| PTO speed [rpm] | 540 | 540 | 540 |
| Hitch category | II | II | II |
| Power requirement [HP] | 70 | 85 | 100 |
| Weight [kg] | 800 | 850 | 900 |
STANDARD

EQUIPMENT
2 PTO SHAFTS (1500Nm, L-1190 wide-angle + 620Nm, L-1010 with a shear pin clutch)
Rear contour copying roller
Rotor shaft with flail hammers
Cutting height adjustment
Bolted shredding-blade
Safety skids
Protective flaps