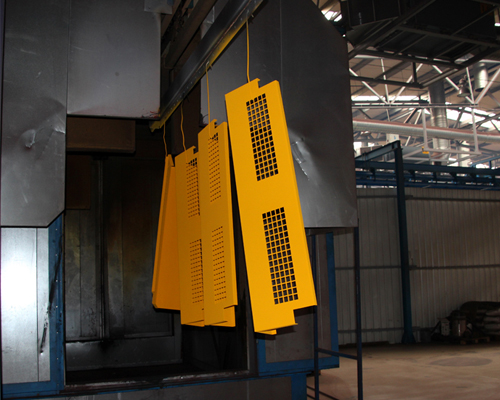 For automatic abrasive blasting prior to the coating and galvanizing of medium and large parts, we use a modern, automatic shot blasting machine that is supplied with the latest surface cleaning technologies, including a suspended lift and impellers, as well as continuous rotation and oscillation of the suspension.
Max. dimensions of shot blasted details: » max. diameter: 2,000 mm » max. length 2,500 mm
This technology involves spraying powder using guns and compressed air. Max. dimensions of objects to be coated in the spray booth are:
» length: no limit
» width 1,200 mm » height 1,900 mm
Dimensions of the oven working chamber: » length 4,400 mm » width 2,400 mm » height 2,200 mm
We obtain even distribution of paint on the surface of a work piece, with no local bulging or irregularities, by using hydrodynamic piston pumps and spray pack appliances. They are perfect for spraying all kinds of water-based emulsion paints, enamels, solvents, etc. Spray painting provides excellent coverage and a beautiful and smooth surface.
Coatings obtained in our modern-technology galvanizing plant feature high pressure plating bath, excellent durability, adhesion to surface and attractive appearance. We have two galvanising baths with dimensions of:
» length 1,000 mm » width 800 mm » height 1,200 mm
The zinc plated coatings undergo passivation, which significantly improves zinc resistance to corrosion and various mechanical damage.