Light flail mower Z022 SlimCut
Our broad range of shredders has now been extended by a lightweight machine which is perfect for orchards, small fields and gardens. This machine can be coupled with tractors of 15 HP or more. Low power requirement is what makes it compatible with almost ANY machine.
Belt transmission
Drive is transmitted by four v-belts. Machine protection. Clampex clutch system.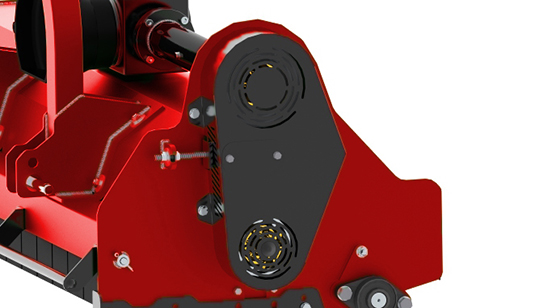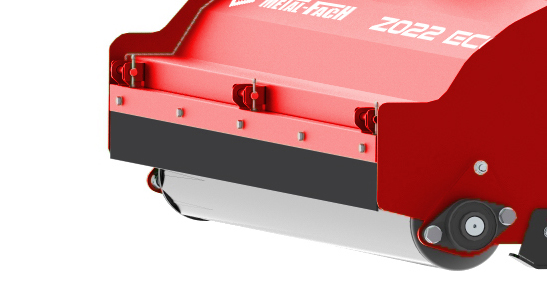 Rubber cover
Deflects crops
Protective skids
90mm in width. Protect the machine from obstacles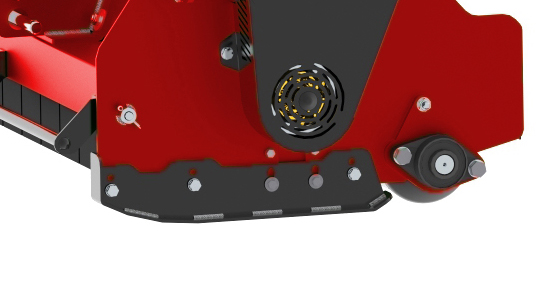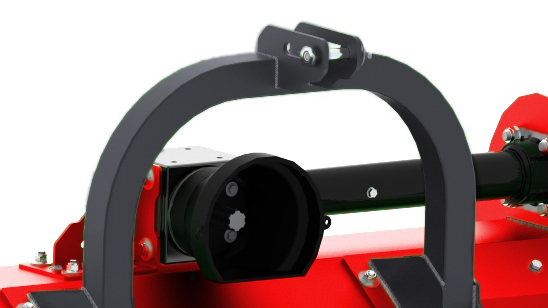 Three-point hitch
One folded steel profile, which signifi¬cantly increases hitch durability (unlike welded profiles)
Hydraulic shift
Up to 410mm offset movement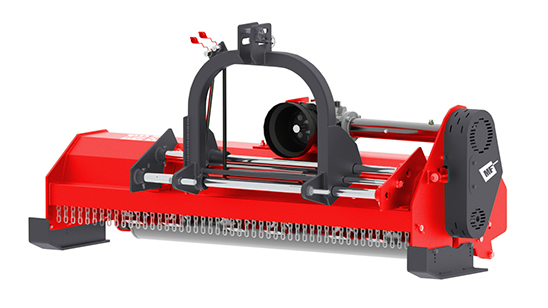 | | Z022 100 | Z022 135 | Z022 135H | Z022 150 | Z022 150H | Z022 180 | Z022 180H |
| --- | --- | --- | --- | --- | --- | --- | --- |
| Working width [mm] | 1000 | 1350 | 1350 | 1500 | 1500 | 1730 | 1730 |
| Power requirement [HP] | 15 | 25 | 25 | 30 | 30 | 40 | 40 |
| PTO speed | 540 | 540 | 540 | 540 | 540 | 540 | 540 |
| Category of three-point hitch | I | I | I | I | I | I | I |
| PTO shaft | 460 Nm, shear-pin clutch, L - 860mm | 460 Nm, shear-pin clutch, L - 860mm | 460 Nm, shear-pin clutch, L - 860mm | 460 Nm, shear-pin clutch, L - 860mm | 460 Nm, shear-pin clutch, L - 860mm | 620 Nm, shear-pin clutch, L - 1010mm | 620 Nm, shear-pin clutch, L - 1010mm |
| Number of flails | 16 | 22 | 22 | 24 | 24 | 26 | 26 |
| Working capacity [ha/h] | 0,5 | 0,7 | 0,7 | 0,75 | 0,75 | 1,3 | 1,3 |
| Number of V-belts | 2 | 2 | 2 | 2 | 2 | 4 | 4 |
| Weight [kg] | 222 | 260 | 302 | 273 | 315 | 418 | 449 |
| Hydraulic shift [mm] | - | - | 410 | - | 410 | - | 410 |
STANDARD

EQUIPMENT
PTO with shear-pin clutch
Safety flaps
Skids working shaft armed with flails
Welded shredding-blade
OPTIONAL

EQUIPMENT
Hydraulic shift (except SlimCut 135 and SlimCut 150 model)