Strona główna /
Sweeper T814
The T814 sweeper is designed to remove dirt from all hardened surfaces. Is it ideally suited to sweep squares, traffic routes and parking facilities covered with paving stones, asphalt and concrete. It can be coupled with a forklift truck, tractor or loader, for use in agriculture, horticulture as well as municipal services or industrial applications. A wide range of accessories makes the machine adaptable for the requirements of even the most demanding customers. The sweeper is a multi-season machine, so it can also be used for clearing snow in winter.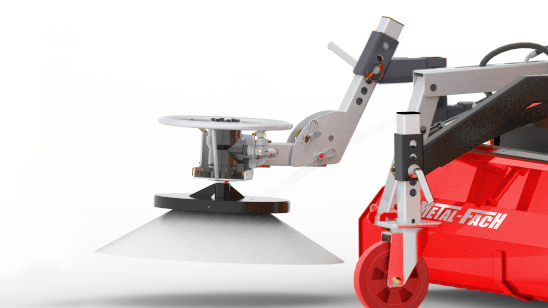 Side brush
Ø650 mm. Can be mounted on either side. The customer chooses the type of brush (wire, polypropylene, MIX). Enables precise sweeping of hard-to-reach areas. It has a safety device that lifts the brush when an obstacle is hit. 3-way valve regulates the side brush operation.
Water sprinkling system
175 l water tank with external filter. Pressure pump (12/24 V). Spray bar complete with flat nozzles. Reduction of dust emission during operation. Side-brush mount option.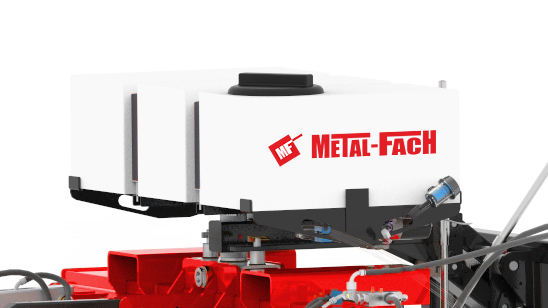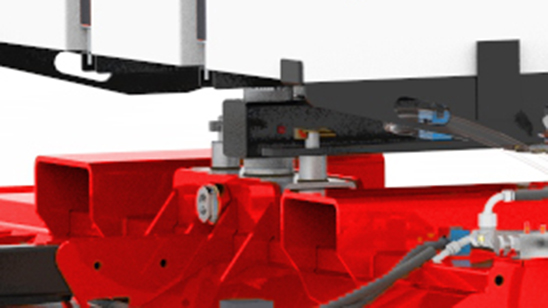 Floating system
Prevents the machine from being pressed into the ground. Allows the machine to work smoothly on uneven terrain. Provides perfect terrain copying profile, which reduces the machine's failure rate.
Hydraulic working angle adjustment
Permits the working angle to be set at 15o.
Fork mount
Enables quick coupling of the sweeper. Standard equipment. Stiff operation.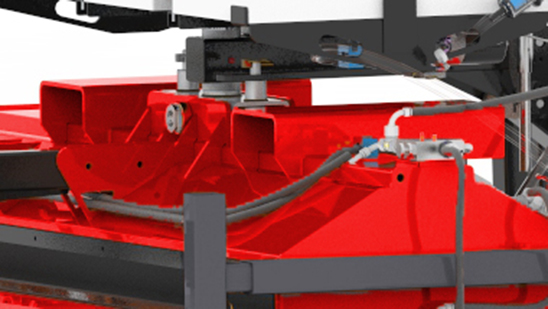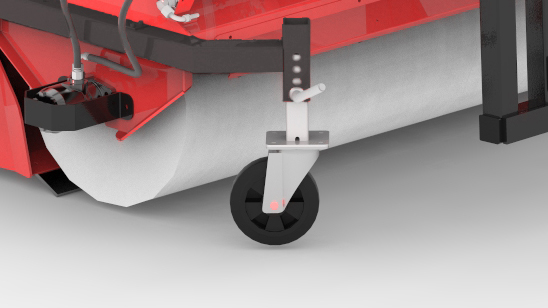 Wheels
Ø 200x50 mm with solid aluminium rims. Manually adjustable. Standard 3rd support wheel at the front of the machine.
Available mountings
EURO frame. Mounts for loaders and telehandlers, e.g Schaffer, JCB, CAT, Manitou, Volvo etc.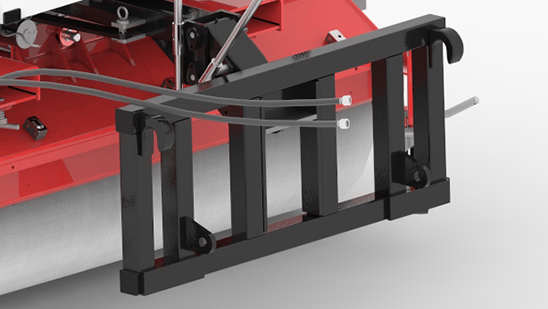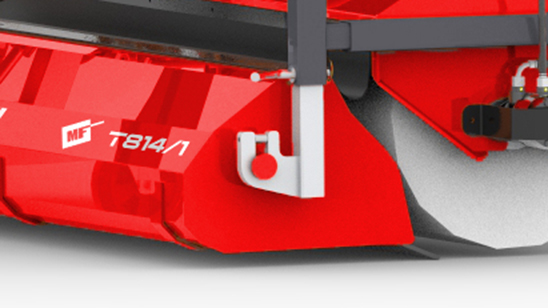 Waste tank
Manual and hydraulic version. Large capacity, includes a rubber edge protection.
Main brush
Ø 510 mm option to pick from: - MIX – a blend of polypropylene fibres and wire, - PPN – polypropylene fibres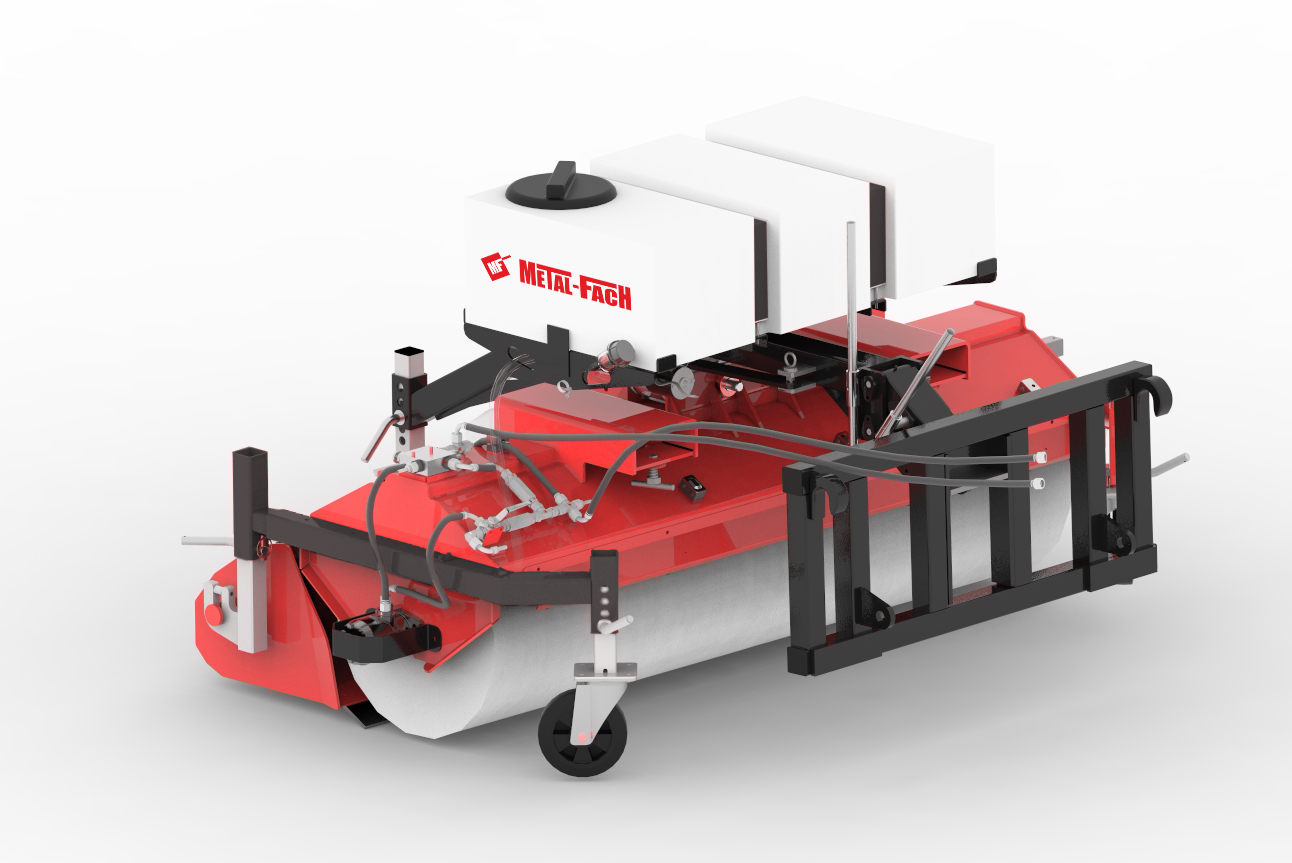 | | T814/3 | T814 | T814/1 | T814/2 | T814/4 |
| --- | --- | --- | --- | --- | --- |
| Sweeping width [mm] | 1200 | 1500 | 1800 | 2300 | 2800 |
| Recommended sweeping speed [km/h] | 5 | 5 | 5 | 5 | 5 |
| Working equipment | Sweeping roller + side brush (optional) | Sweeping roller + side brush (optional) | Sweeping roller + side brush (optional) | Sweeping roller + side brush (optional) | Sweeping roller + side brush (optional) |
| Drive | External hydraulic system of the carrier vehicle | External hydraulic system of the carrier vehicle | External hydraulic system of the carrier vehicle | External hydraulic system of the carrier vehicle | External hydraulic system of the carrier vehicle |
| Speed of the sweeping roller [rpm] | 150 | 150 | 150 | 150 | 150 |
| Maximum hydraulic operating pressure [ bar ] | 150 | 150 | 150 | 150 | 160 |
| Minimum oil requirement [l/min] | 25 | 25 | 25 | 25 | 80 |
| Number of spray nozzles | 5+1 | 5+1 | 5+1 | 7+1 | 9+1 |
| Waste tank capacity [l] | 100 | 130 | 160 | 200 | 600 |
| Water tank capacity [l] | 175 | 175 | 175 | 175 | 250 |
| Sweeper weight without accessories [kg] | 250 | 265 | 280 | 330 | 445 |
STANDARD

EQUIPMENT
Three-point linkage
Floating system
3rd SUPPORT WHEEL
Body with main brush
Main brush of any type
Fork slots
OPTIONAL

EQUIPMENT
Waste tank
Water sprinkling system
Side brush
Hydraulic working angle adjustment
LED lighting
reinforced hydraulic system